NOW GALLERY'S 'NOW LATER' 2022 IN COLLABORATION WITH PRIM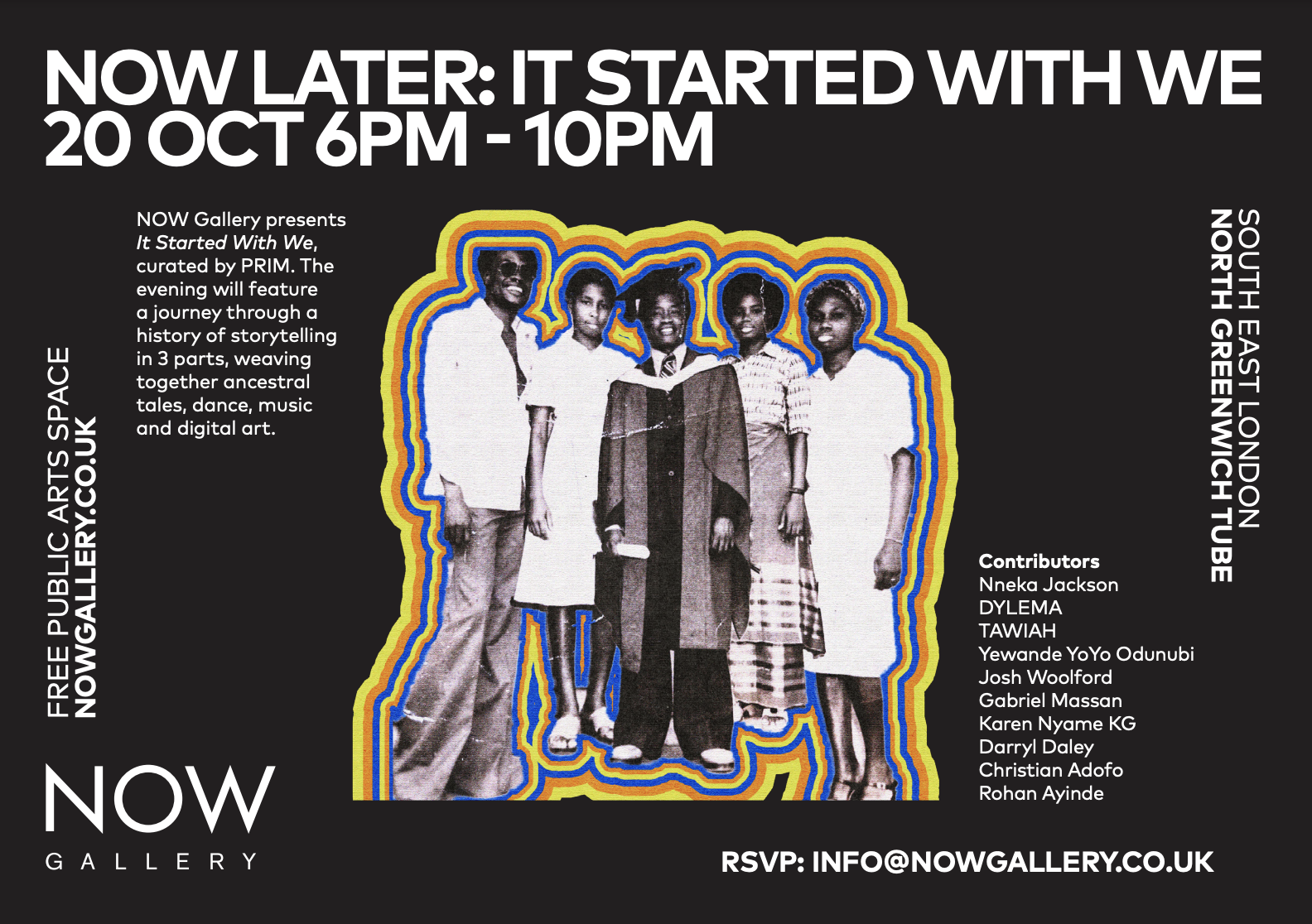 AS PART OF THE ANNUAL NOW LATER SERIES, PRIM PRESENTS... 'IT STARTED WITH WE' IT STARTED WITH WE IS A STORYTELLING JOURNEY INCORPORATING LIVE MUSIC, ORATION, PERFORMANCE, FILM AND DANCE.

WHEN WE THINK ABOUT STORYTELLING WE AT TIMES DO NOT CONSIDER ALL THE VARYING MEDIUMS WE ENGAGE IN AND HOW EACH OFFERS US SOMETHING UNIQUELY DIFFERENT. EACH MEDIUM CONVEYS THE STORY DIFFERENTLY, BUT OUR UNDERSTANDING, THE BASIC TENETS OF THE STORY DO NOT CHANGE. A SIGNIFICANT PART OF PRIM'S WORK IS TO ENSURE THAT ALL THE MEDIUMS WE AS BLACK PEOPLE USE TO TELL OUR STORIES CAN BE ACCESSED IN ONE SPACE, AT ONE MOMENT. IT'S WHAT OUR PLATFORM IS BUILT ON, IT'S WHY OUR BOOK CLUB OFFERS READING, VISUAL ART AND AN AUDIO COMPONENT.

NOW, WE BRING THIS FRAMEWORK INTO AN EVENING PROGRAMME EVENT TO CELEBRATE BLACK HISTORY MONTH WITH NOW GALLERY. IT STARTED WITH WE WILL TAKE US ON A JOURNEY THROUGH OUR HISTORY WITH STORYTELLING.



"PART I
WE BEGIN WITH AN ANCESTRAL TALE, CONVEYED TO US VIA AN ORATION, A DANCE PERFORMANCE AND ORCHESTRAL MUSIC, ENCOURAGING US TO LOOK BACK TO WHERE CULTURE BEGINS AND HOW IT WAS PASSED DOWN, ALONG AND ACROSS GENERATIONS."

Ancestral tale
"GOLD"
by Nneka Jackson. Oration by DYLEMA, Dance performance and sound illusatration by Yewande Yoyo Odunubi and Josh Woolford.
Orchestral music by TAWIAH.
(Photography by Nina Manandhar)
[VIDEO PENDING]


"PART II
WE TURN OUR FOCUS TO OUR PARENTS, MIGRATING FROM VARIOUS PARTS OF THE WORLD TO BRITAIN. AS THEY SHARE WITH US THEIR STORIES OF ARRIVING, LIVING AND FORGING A WAY FOR THEMSELVES AND FOR US, WE ALSO INVITE THEM TO REFLECT ON THEIR EXPERIENCE."

Screening of "UNU" (you&you) by Darryl Daley featuring his grandmother and her care giver is a film exploring the Black Atlantic journey considering the past & present tide of possibility for two individuals as their paths interact.

Followed by a talk with Rohan Ayinde and Christian Adofo chaired by PRIM Founder, K Bailey Obazee

(Photography by Nina Manandhar)

"PART III
WE BRING OURSELVES BACK TO TODAY'S ARTISTS - HOW DO WE SHARE OUR STORIES OF MIGRATION, OF COMMUNITY, OF OUR EXISTENCE NOW? AND WHAT DOES THE FUTURE LOOK LIKE? THROUGH AN EXPERIMENTAL ART PIECE AND DJ WE'LL EXPRESS HOW TWO ARTISTS ARE SHARING THEIR STORIES IN NEW, SEEMINGLY ABSTRACT WAYS, THAT FOSTERS FREEDOM, LIMITLESS POSSIBILITIES AND COLLABORATIVE CONNECTIONS VOID OF BORDER CONTROL."

Music by Karen Nyame KG taking us on a journey through her sounds inspired by her South African heritage and UK upbringing.

Alongside Berlin-based Brasilian artist Gabriel Massan's digtal art piece depicting loss and grief...

"Don't say goodbye to Earth", 2022
"Inequality and violence are structured in all ambits of the passage between dissident and peripheral bodies in the "Third World". Death, as the physical end of the existence of a living being, is also consecrated as a period in life. Inequality and violence are perpetuated in the moment of death and its ceremony.A new chance for longing to detach itself from the trauma is needful. Homage exercises are presented through simulations of funeral reconstructions, now detached from the limits of inferior death. Essay about the carnal farewell of a grandmother, a cousin and a friend."

(Photography by Nina Manandhar)